Greetings Pumpkin Fans,
Charlie here, from
Back to the Fridge
. I've been a fan of Megan's Munchies for a couple months now. In fact, I believe this is
my very first comment
. So you can see, as soon as I discovered the emphasis placed on the large orange squash around here, I was hooked.
Of course, I'm one of those people who loves to read about food and recipes, yet never actually gets around to making anything. I felt bad about this here, considering how many tasty munchies I've seen pictured. So I finally decided to do something about it. I made my
own
recipe and asked Megan to post it. (Seemed like the only way I could claim to have made something found on this site!)
So without further babbling, I give you Chuck's Pumpkin Cake. (Well, okay, just a
little
more babbling.) The "Chuck" in this recipe is my dad. (Yes, I'm a junior.) I have no idea where he got this recipe. All I know is it's been in the family for as long as I can remember and it's always been a big holiday favorite. It's high time the rest of the world found out about it.
Ingredients:
1-1/4 cups vegetable oil
2 cups sugar
4 eggs
3 cups flour
2 tsp. baking soda
2 tsp. baking powder
3 tsp. cinnamon
1 tsp. salt
2 cups pumpkin
1/4 cup molasses
1 cup semi-sweet chocolate chips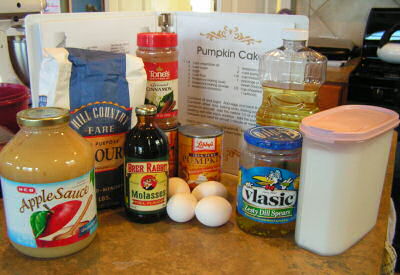 Directions:
Combine oil and sugar. Yum. I think I would actually eat oil and sugar as a dessert all on its own. What more do you need?
Add eggs and beat until smooth. In spite of the fact this photo makes it look like the beaters are about to break the sound barrier, this is on low speed: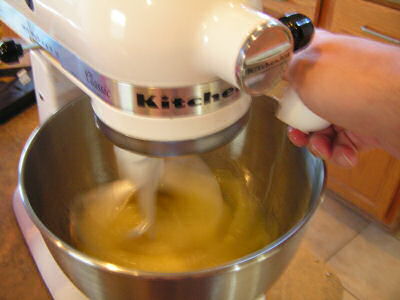 Next, combine all the dry stuff in a separate bowl. Although the recipe calls for three teaspoons of cinnamon, I really don't think it would hurt to toss in a little more. I mean, it's
cinnamon
. What could go wrong?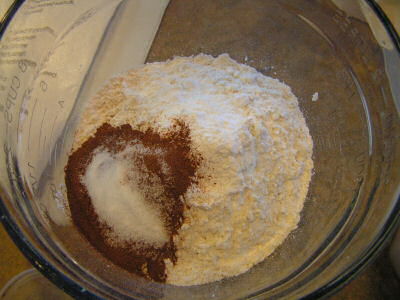 Now add the dry stuff to the sticky stuff. I don't have one of those fancy collars to go around my mixing bowl, so I've found using a big tablespoon gets the job done. Check out my big job-getter-dunner tablespoon in action: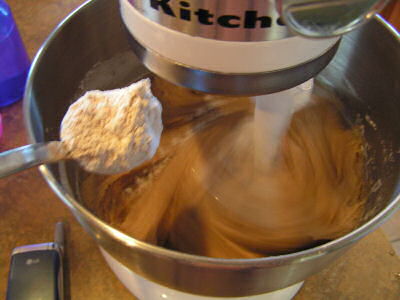 Once that's all mixed, add the pumpkin. You'll find the job-getter-dunner tablespoon also miraculously works on canned pumpkin. I also highly recommend keeping a cell phone next to the mixer in case you need to alert the media. "Hello, Media? This is Charlie. This cake's gonna kick butt!"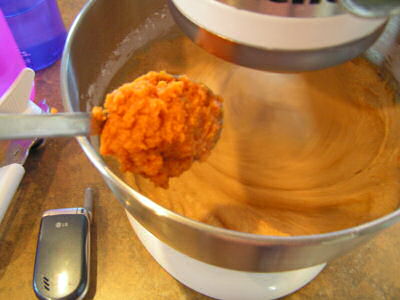 Ahhh... now we come to the controversial step: the molasses. My mom swears the
real
pumpkin cake recipe does not include molasses. However, the sheet of paper I'm looking at, typed up and printed out by my dad himself, clearly says molasses is an ingredient. So just put it in.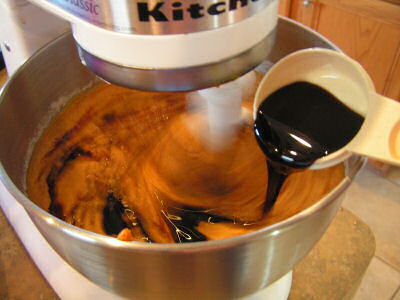 Ahhh... now we come to the OTHER controversial step: the chocolate chips. Most people freak out when I tell them, "It's pumpkin and chocolate chips." They give me a look as if I said the final ingredient was okra and beets. Chocolate has improved
countless
desserts for eons, and suddenly it's weird to put them in a cake? I really don't get it. So just put 'em in.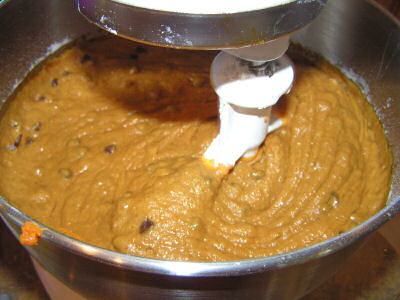 At this point you will all thank me for NOT uploading the photo of me licking the beater like a three-year old. Now pour into an ungreased (and sticky-less, if you have it) tube pan: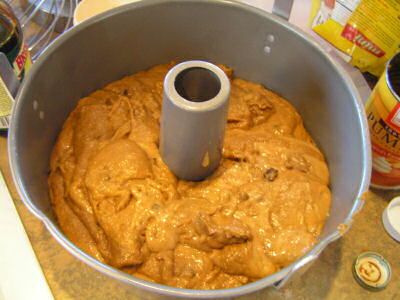 Ready for the worst part? Bake for one hour. I know! An entire
hour
must pass before you can eat this. I'm working on a version that bakes in twenty seconds. I'll let you know how it goes.
Anyway, for now, it's one hour at 375 degrees. When the timer goes off, stick a toothpick in the cake. It will very likely NOT come out clean. Put it back in another fifteen minutes. Once it passes the clean toothpick test, let it cool, then flip it out: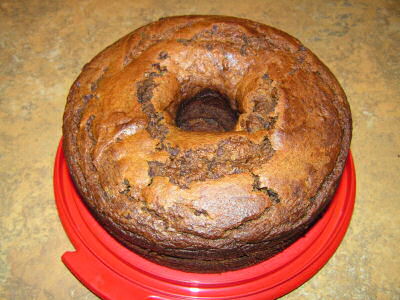 WARNING: This is not diet food. This is holiday food. As prepared, here is the nutritional info for a 1/16th slice of the cake:
If you're doing Weight Watchers, that's about 10 points for one slice of cake. Yes. I know. So if you're like me, and really would like to
not
gain a hundred pounds over the next two months, here's an alternate version: reduce oil from 1-1/4 cups to just 1/4 cup. Replace with 1 cup of applesauce. Leave out the molasses. If you do that, you now have this: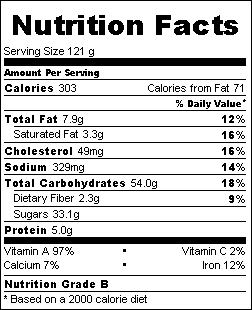 That's only six points. And to be honest, 1/16 of the cake is a pretty thick slice. You could easily get 20 or 24 slices out of this big, thick cake and still feel happy. By that time you're probably down to 240 calories or so, and maybe 4 points.
You might wonder what this caloric reduction does to the outcome? Here are two slices side by side: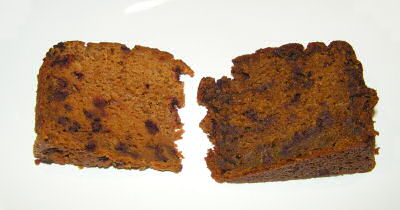 The slice on the left is the lighter variety. It's definitely not as heavy and comes out a bit more spongey. The slice on the right is the high octane version, and darker due to the molasses. It's definitely heavier and richer and you can taste it. Which one is better? Well, I've tested both among a fair sized group and found opinions split down the middle. Some actually prefer the lighter version. All depends on what you're in the mood for.
For actual readable and printable versions of the recipes, click
for the heavy version
and here
for the light version
.
Enjoy!